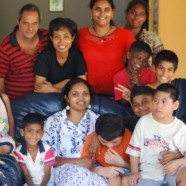 Pusat Jagaan Kanak-kanak Kurang Upaya KIRTARSH is seeking the following types of donations:
Cash
Double decker beds
Mattresses
Plastic Drawers
Wall fans
Ceiling fans
Bookshelves
Video cam
BACKGROUND/HISTORY
Registration Number:     pkmd.sel/05/800/02/1
When Established:     07/2005
By Whom:     Mr Manivannan
Description of Charity:
Pusat Jagaan Kanak-kanak Kurang Upaya KIRTARSH was established in July 2005. It is a non-political,non-racial,non-religious and non-profitable organisation specially established to look into the needs of 'special children' in their immediate shelter, food, education, therapy, medication and general well-being. There are currently 50 children (and some senior citizens) in their care, consisting of Down Syndrome children, Autistic children, Slow- Learning children, Hyper Active and Intellectually Disabled children, as well as children suffering from audio impairment and also children from poor backgrounds and from broken homes.
The objective of the Home is to provide for the children under their care in all aspects and to equip them for an independent, rewarding and fulfilling life in the future.
Objective:
Recently the Home has been offered free use of another nearby house. As there is space constraint now in the existing house due to the increasing number of dependents, the Home intends to move some of the dependents over to the 'new' house. As it is, they require some donations to renovate the house. If you are interested to help, please call to find out more from Mr Manivannan or Ms Judy. thank you.
Type of Housing (Single Storey House, bungalows etc):
Bungalow
Sources of Funds:     The home depends on public donation
Estimated Monthly Expenditure:     RM26150.00 per month
NEEDS
Volunteers are needed to help the children in their school work and to provide hobby classes eg art and craft classes, music classes; volunteers are also needed for general help around the Home.
Description of Needs:
The Home urgently needs a van to ferry the children to and from school. Those interested to help sponsor this cause please contact the Home Administrator Mr Manivannan. All help will be greatly appreciated.
As there are more dependents now, KIRTARSH is setting up an adjacent bungalow to house the children. In view of this they need RM100,000 for renovation costs.
Non-cash donations:
20 units Double decker beds,40 mattresses (pvc covers, 20 units Plastic Drawers(5 drawers),1 unit rice cooker,
1 unit vacuum cleaner, 2 units electric kettles,5 wall fans, 5 ceiling fans,4 bookshelves, DVD player,1 video cam, 1 printer, 1 scanner, 4 filing cabinets,1 oven, 1 microwave,1 unit long metal table, 6 metal chairs. Also needed are kind sponsors for monthly electricity bills, monthly water bills and also medical bills.
Bank details : Public Bank account no 3159754313
Cheques Made Payable to: Pusat Jagaan Kanak-kanak Kurang Upaya KIRTARSH
Do you know of an update to this profile? Let us know by clicking here!