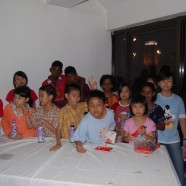 | | |
| --- | --- |
| Email address | info@rumahhope.org.my |
| Website | www.rumahhope.org.my |
| Phone number | +603 7954 5523 |
| Phone number | +603 7957 2860 |
| Fax number | +603 7954 5722 |
| Year of establisment | 1994 |
| Address | No. 45, Jalan 20/2, Paramount Garden, 46300 Petaling Jaya, Selangor, Malaysia |
Rumah Hope is seeking the following types of donations:
Sugar
Sardines
Milk Powder
Meat
Industrial Washing Machines
Refrigerators
Sponsorship
Cash
Rumah Hope was started in 1994 as a social ministry of Good Hope Lutheran Church, ELCM in aid of 5 needy children and as a sanctuary for abused, neglected and under-privileged children between the ages of 5-17. The Home relies solely on public funding to maintain itself.
After 4 years, the Home moved from an old rented bungalow in Old Klang Road to the new home Rumah Hope 1 in Paramount Garden , PJ. The construction of the home was possible thanks to generous contributions in cash and kind namely from Evangelical Lutheran Church Malaysia , Khalid Aluminium Industries Sdn Bhd, NGO's the general public and various corporate bodies. Rumah Hope 2, a second block was opened on 10th October 2006.  Rumah Hope and Rumah Hope 2 will be able to house a maximum of 70 children. The Home is which is registered with Registrar of Societies is also registered with the Selangor Welfare Council and it has been granted Tax Exemption status by the Ministry of Finance.
OBJECTIVE
Rumah Hope aims to provide a suitable social setting with physical and emotional care to children who have been deprived of these necessities in life. The Home aims to:
 1)Provide a haven (health care, shelter, education and social interaction) to physically, emotionally and psychologically scarred children.
 2)Provide security and comfort to these children who never have experienced tenderness and loving care.
 3)Provide the opportunity to reconcile parent and child from troubled homes through conselling and therapy.
 4)provide the chance of wholesome education in government schools.
 Activities like woodwork, sewing and handicraft for the older children are organized.
 Through a sound upbringing and an environment that nurtures, loves and cares, Rumah Hope hopes to provide these children the opportunity to realize their dreams and step out into the world as independent, mature individuals who can be successful in life.
 The Present Management Committee, led by the chairman Jacob Mathew comprises of voluntary members from Good Hope Lutheran Church and other churches under the Evangelical Lutheran Church Malaysia (ELCM) together with individuals from private companies. All the management members are active in public life and are ardent supporters of various public welfare organizations.
 Along with our efforts to secure funds, a request for an annual government grant is being made annually. With government aid backing us, the possibility of extending our reach to more children becomes very real.
NEEDS
The Home is grateful to its present batch of volunteer for sacrificing their personal interests for the children. We welcome more volunteers to help us in our cause.
 Non-cash donations:
1. Provisions especially
a) Sugar
b) Sardines
c) Milk Powder
2. Meat especially Chicken & Vegetables
3. Industrial Washing Machines & Refrigerators
4. Sponsorship for Astro ( The Learning Channel) (***Famous Amos has sponsored ASTRO for Rumah Hope till Feb 2013. Thanks Famous Amos!!!)
5. Sponsorship for Unifi / Streamyx
To make a donation and to assist with our needs; please click on the following links for updated information:
 http://www.rumahhope.org.my/make-donations.aspx
 http://www.rumahhope.org.my/donations.aspx
Our main donation accounts are Public Bank and Maybank :
1) Public Bank
Acc Name : Rumah Hope
Acc No. : 3108 0493 22
2) Maybank
Acc Name : Rumah Hope Education Fund
Acc No. : 5141 7863 1866
3) Send your gift by way of cheque, money order or postal order payable to 'Rumah Hope' and mail it to our address.
Tax exempted receipt will be issued.
EVENTS
Previous events can be viewed here. Please contact organisation for more information on future events.
Do you know of an update to this profile? Let us know by clicking here!