| | |
| --- | --- |
| Contact person | Teacher Raj / Teacher Kiran |
| Email address | malaysia@sols247.org |
| Website | www.sols247.org |
| Phone number | +603 62616 442 (Office) |
| Phone number | +6012 639 8442 / +6012 639 7442 |
| Address | SOLS 24/7 Malaysia Youth Development Center: No. 10 & 12-1, Jalan 8/38A, Taman Sri Sinar, Segambut, 51200 Kuala Lumpur |
Science of Life Studies 24/7 is seeking the following types of donations:
Cash
Tables
Chairs
shelves
Beds
Mattresses
Computers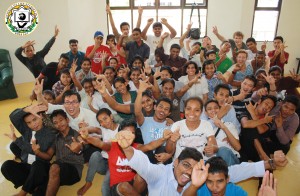 ABOUT
Science of Life Studies 24/7 was founded in 2000 in Cambodia. Since then, SOLS 24/7 has expanded its reach into six countries. It now has training programmes in Timor Leste (2006), Malaysia (2007), Laos (early 2010), Japan (late 2010) and Singapore (2011).
SOLS 24/7 has trained over 75,000 youth. They have 58 boarding and training centress in 6 countries.
Objective
SOLS 24/7 is a Non Governmental, Non Religious Organization that provides a unique Education programme for underprivileged youth who are not able to acquire a proper school education or are unable to pursue higher education due to financial difficulties or otherwise. The target group is youth aged 16 – 29 with a special emphasis reaching out to girls.
Programs
SOLS 24/7 has a full-time boarding program where students are provided education, boarding and meals (3 X a day) for FREE. Students are taught a structured program of leadership & character skills as well as academic/book smart skills. SOLS 24/7 mission is to provide the best non-formal and life skills education, developing youth to become skilled, responsible, dynamic, disciplined, compassionate and socially conscious.
SOLS 24/7 provides training in English, Basic Mathematics, Computer (Hardware & Software), Book-keeping, Job Preparation. SOLS 24/7 is in the process of becoming a Department of Skills Development (JPK) accredited Training Centre providing certificates in Computer Systems and Community Service.
NEEDS
Financial/Furniture/Computers Support
We are looking for financial assistance in order to facilitate operations and expansion cost. We also require tables, chairs, shelves, beds, mattresses, computers (minimum Pentium 4).
Volunteer Support
There are opportunities for skilled and dedicated individuals to join SOLS 24/7 to serve as volunteers in our Training Centres (Cambodia, Timor Leste, Malaysia).
Minimum period is 3 months.
Community Center Project
SOLS 24/7 has spearheaded three Community Centers in Malaysia which provides education to communities who do not have the ability to study in the full-time boarding program. The SOLS 24/7 Community Center acts as an information and education hub, where part-time students pay a minimal fee.
SOLS 24/7 is looking for locations where we can reach out to poor communities. If possible a House or Building for free or very low rent.
facebook: http://www.facebook.com/sols247
Do you know of an update to this profile? Let us know by clicking here!