Engineers Without Borders Malaysia (EWBM) was co-founded by three young aspiring individuals, Latifah Hamzah, Lim Sze Wei and Sanjiv Indran in 2012 and officially registered as a charity NGO under Malaysian Law (Societies Act) in March 2013. Engineers Without Borders Malaysia (EWBM) is a non-profit organisation that aims to harness the expertise of engineering students and professionals in Malaysia for engineering projects that benefit local, underprivileged communities with an emphasis on environmental sustainability and community empowerment.
We are affiliated with Engineers Without Borders – International, a globally recognised international federation of national Engineers Without Borders/Ingenieurs Sans Frontier (EWB-ISF) Members Associations.
Check out our completed and ongoing projects, and do get in touch if you are interested!
WHAT WE STAND FOR?
Mission
– Partner with student organisations and NGOs to provide basic needs to underprivileged communities through the design and implementation of sustainable engineering solutions
– Give help to communities in need and raise awareness of social and welfare-related issues in Malaysia
– Promote engineering and inspire young engineers and non-engineers alike to practice social responsibility
– Connect like-minded people with a passion for humanitarian work within Malaysia
Vision
Our vision is for all Malaysians to have access to the six basic human needs: Water, food, shelter, power, education and healthcare.
HOW DO WE WORK?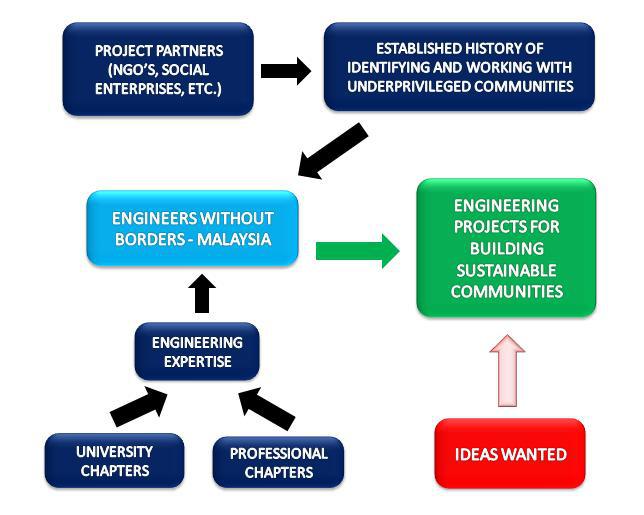 We are always looking for people and ideas! If you would like to contribute to EWBM, contact us here.
Learn More
Engineers Without Borders Malaysia (EWBM)