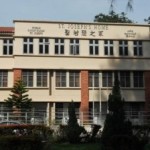 Who are we
The home was first founded in 1891 and was then known as St Joseph's Orphanage. With the changing trends in society in the 1990's and the rise in problems faced by families, there was pressure to expand the services of the orphanage in order to be more responsive and relevant in society. Hence St. Joseph's Orphanage opened its doors to include not only orphans, but also to boys and girls of all religions and ethnicity who came from very poor socio-economic and psychological backgrounds. St. Joseph's Orphanage became St. Joseph's Home.
We have 39 children (16 Boys and 23 Girls) whose ages range from 6 to 17 years, the Home is still true to its mission of seeing to the needs of poor children and helping them to get a good education and developing proper living skills so that they will become useful adults.
With its mission statement being the HOLISTIC DEVELOPMENT AND REINTEGRATION OF THE CHILDREN INTO SOCIETY, the pillars of the Home are: Formation, Education, Community Life.
Our services
The Home has established vocational skills training for those in the Home and outside the Home (those of poor social economic background) who are not academically inclined so that they can be independent in the future. They have also started a new programme on teaching/ learning methods to stimulate and motivate the children towards learning. This is done by activity-based learning, which is conducted in small groups of six children at the maximum.
To ensure that the children are not left out in the mainstream of society, regular outings are carried out. The children are sent to public schools and regular liaison is carried out with the schools. volunteers and tuition teachers help them cope with their formal schoolwork.
Our needs

Volunteers are also welcome as Care Givers. The range of responsibilities or assistance include:
Cooking
Cutting of children's hair
Supervising school homework
Teaching Bahasa Malaysia, English and Mathematics
Being with children when they are studying on their own
Technical skills and vocational training (during leisure time or school holidays)
Driver
Trained counselors
Helping in the office part-time (clerical work)Assisting with the general maintenance of the Home
Activity based learning on personal development, self esteem, motivation and community living
The Home is dependent on donations for its services. The Welfare Department of Penang gives an annual grant to the Home. However, the grant is not enough to sustain the Home. The Home welcomes all of you to be partners with them in the development of these children. Hence every contribution, both in kind and cash as well as service is greatly appreciated.
Rebuilding of the Home's dormitory, which was destroyed by fire, was funded entirely by generous donations from the Public and currently houses the girls' dormitories. The Home requires basic foodstuff (fresh seafood and vegetables) and general cleaning supplies (household cleaners and detergents). A list of items can be viewed on the Home's notice board.
The Home also runs a program where you can sponsor a child for RM1,000/- per annum. For more information on how you can help please contact the Home.
Our fundraising activities
Our average monthly expenditure is about RM40,000.00 and one of the biggest expenditure is electricity which costs around RM3120.16. In
order to reduce electricity cost we have applied to SEDA (Sustainable Energy Development Authority (Malaysia) to sell Solar power to TNB to generate revenue for ourselves.Under this project we will have a sustainable yearly income of RM41,000.00 or RM3416.00 monthly over a
period of 21 years to produce 24kw of electricity. SEDA has already approved our application under application no. S2014070041 dated 8th
August, 2014.
The cost of installing Solar Power is RM220,000.00 and we need to raise this sum soonest so as to fit into this years Solar Power program.
How to go to St Joseph's Home by Public Transport
Take a bus to Penang Road. Rapid Penang bus 10, 11, 101, 103, 104, 201, 202, 203, 204, 206, 301 and 302 pass through Penang Road. You can also take the Rapid Penang Free Shuttle Bus, and alight at Station No. 7 (Lebuh Muntri). From there, cross Penang Road and walk towards the Catholic Information Centre. Enter through the gates, and you will see St Francis Xavier Church in front of you. St Joseph's Home is to the right of the church. (Credit: Penang Travel Tips)

St. Joseph's Home
[email protected]

Email

+604 263 5418

Phone Number

+6011 3137 3979

Phone Number

+604 262 5418

Fax Number

P/PJBKK001/2017

Registration Number

Antoney Gomez

Head of Organisation

52K, Jalan Penang, 10000, Pulau Pinang, Malaysia

Address
Visit Us