Tax Exemption
Who are we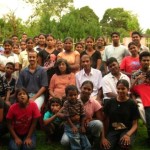 This Residential Care Centre was started in November 1993 by Maria and Edmund who came to stay in Kulim in 1993. The organisation is registered with the Registrar of Companies as Sunshine Cottage. In November 2004, they registered with the Jabatan Kebajikan dan Kemasyarakatan Malaysia (Department of Social Welfare) in Kulim, Kedah and now is known as Sunshine Cottage Welfare Society.
Our aims
The vision at Sunshine Cottage is to shape a happy and friendly environment that can facilitate the growth of each individual in order to develop his or her full potential. Each person is given the opportunity to experience care and support and discover a taste of what life can offer should they choose to grasp it.
We provide
– Food, Shelter and Clothing
– Education up to Secondary School
– Simple Recreational Facilities
– Limited Vocational Training
– Counselling
There are six homes altogether, namely
1) children
2) senior citizens(men),
3) senior citizens(women)
4) disabled,
5) youth,
6) nursery.
Our achievements
More than 300 children, handicapped persons and senior citizens have been cared for, since its inception. Most of the past residents (children/youth) of the Home have gone on to get good jobs and have settled down well.  Some have got married. Some have reunited with their families. Others have acquired new skills.
Currently they have about 83 dependents, made up of children, disabled persons, senior citizens and teenagers/youth. The Home is managed by a committee of 20 members, many with a background in welfare /social work.
Our needs

Volunteers are needed to help with fundraising. The homes are urgently appealing for funds. The homes have been facing difficulty in raising enough to cover monthly expenses. Other than that, volunteers are needed to assist students in the lower secondary / primary levels. Volunteers to care for handicapped children (Day Care).
The funds are for rental, utilities, transport and school expenses and to caregivers and volunteers. Sunshine Cottage depends mainly on monthly pledges – they want to raise it from current 10 pledgers to up to 100. The home is also hoping for a sponsor to ensure a consistent stream of finances just to cover the basics.
Only one church is donating RM150-250 bimonthly and the current 10 pledgers offer RM1,500 per monthly.
Non-cash donations:
– Food stuff (dry rations)
– Teaching aids
– Furniture for their centres
– Old clothes and old newspapers to be recycled
Due to the fact of their financial status being unsteady, they have been unable to settle the rentals & utilities in the time, thus causing a disconnection of electricity and water facilities a couple of times. They are collecting for a Building Fund to fund 8 buildings to form an activity centre for their residents and community. The Building Fund target amount is RM 2.2 million.
Donations in cash or by cheque. Payments by cheque must be payable to 'SUNSHINE COTTAGE WELFARE SOCIETY'
You can transfer your donation to:
Pertubuhan Kebajikan Rumah Mentari
Public Bank Account no:  3143 7847 01
Name of account: SUNSHINE COTTAGE WELFARE SOCIETY'
How volunteers can help

They would love to have you join them as "partners in community service". Feel free to contact Shan!
Sunshine Cottage Welfare Society
Shan

Contact Person

[email protected]

;

[email protected]

Email

+604 493 1033

Phone Number

+6019 4264 381 (Shan)

Phone Number

+604 493 1033

Fax Number

Established since 1993

Year of Establishment

PPM-006-02-05092007

Registration Number

23, Lorong Sekolah Convent, Bukit Awi, 09000 Kulim, Kedah Malaysia

Address
Visit Us